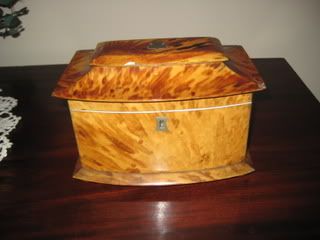 When I get really down about my life or about myself, I have a precious little box in my desk drawer. It is a little treasure box of cards, letters, and love notes from my husband during our courting days.

As I re-read them, I am reminded how precious love is, how encouragement empowers, and the joy of true friendship.

It's profound the depth of God's grace to change my life to uplift someone.

If I can just touch one heart to ignite a passion for God, I can change the world.

A fire starts from a light; I desire to be so bright it's contagious.
Although my collection is very small, I am very excited about my newest addition.

Just recently, I received a letter from my dad.

Always as a child, I craved to be the sparkle in his eye.

During my recent trip home, I was able to minister to my father with God's love.

As I prayed for my father's healing, (he is battling cancer) the power of God was very present.

As I prayed for my father's healing, my hands became very hot.

So, hot in fact my father noticed.

As he looked into my eyes, he said, "Daughter, you have got the gift."

"What you are doing is what God desires for you to do."

"You are blessed with a gift from God."

As he spoke, I was totally shocked.

During my adolescence, I was the only saved person within my household.

As I grew in the Lord, my father fought against my calling to be a minister.

Without his blessings, I attended Bible College to pursue the Lord's calling.

Although it broke my heart, I am grateful to followed God's desire.
After praying for my father's healing, I was overjoyed.

Nevertheless, the greatest miracle was leading my father to the Lord.

Since my salvation, I have dreamt of this day and earnestly prayed for it.

Honestly, I remember asking the Lord if I could lead him. What an answer of prayer to be a part of the miracle of God's love!

As I left his house, an old hymn entered my mind, "There's a new name written down in glory and it's mine." "Oh, yes it's mine."

All I could do was worship the Lord for His loving grace and for answering my prayer.
I didn't realize God wanted to bless me back with a love letter from my dad. As I read the letter, I was so filled with peace and love.

All of the affection, the words of affirmation as a child I wanted, the sparkle in his eye was real.

As I read the words, I felt the scars were healed with love.
Keep in mind, the Word of God, the Bible is God's love letter to us.

Yes, the Word of God is sharper than any two edge sword, it will reveal one's heart; nevertheless God is longing to express His love.

Our hearts need to be healed, so many refuse to listen to the truth.

It's only in the truth will we receive life and health.

It's time to allow God's Word to enter the scars, give opportunity to heal it, and allow the scars to be healed as we read God's love letter to us.
So, tonight I am placing a love letter from my father into my treasure box.

It's one I have desperately wanted and waited for.

So, the next time I am down, I have a word from my father directly from his heart.

He wrote it, so I could read it.

Maybe it's time to re-think how we see the Bible, it's more than a book, it's a letter from my Heavenly Father.