Within the body of Christ, we need to sharpen each other in our walk to allow growth.

As a writer, a Wonderfully Made Edifer, and brother in Christ, I have been blessed to fellowship and minister beside him.

His heart for Christ, dedication to service, and love is truly expressed in his writings, his calling.

Tymothy Longoria is married to Jennifer who shares his passion for the love and service of Christ.

Also, he has two precious children who are a blessing to him.

Soon, he will have his first fantasy novel, "The Stories", published for all to read.

Personally, I can't wait.

We may have the next C.S. Lewis, I pray for the anointing to continue to flow.

So, please welcome my friend and brother in Christ to this challenge your heart.
-------------------------------------------------------------------------------------------------------------------------
I wrote a study for the youth group at my church…some 14 years ago-because I felt they, (myself included) needed to be reminded of what I like to call the basics of salvation. Of Christ. Now do not get me wrong, there is no basic when it comes to God and His Word and His mercy but for semantics and the purpose of this quick study it applies.

What are the basics of being a Christian?
What are the things that we associate with our walk?
Well, of course there is love your neighbor and do unto others…but I'm meaning the tenets of our faith.

There is so many. Here are a few. We must remember that in these simple basic steps there is power and wisdom that follows. The message of salvation is a simple one. Yet, so, powerful.
What is perhaps the most known scripture of all?
For God so loved the world, that he gave his only begotten Son, that whoever believes in him should not perish, but have everlasting life.–
John 3:16
That is the basic foundation of well, everything. It is. So now what?
Ask for forgiveness.
If we confess our sins, he is faithful and just to forgive us our sins, and to cleanse us from all unrighteousness.–
1 John 1:9
It's so simple. But because His mercy is so overwhelmingly perfect and good…doing that, He says this is all it takes.
Embrace it.
Accept His forgiveness. After you ask, He expects you to, well, embrace it. Let it come over
And hereby we do know that we know Him, if we keep His commandments.–
1 John 2:3
Read the Word
. Study.
For the word of God is quick, and powerful, and sharper than any two edged sword, piercing even to the dividing asunder of soul and spirit, and of the joints and marrow, and is a discerner of the thoughts and intents of the heart.–
Hebrews 4:12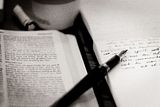 For me—growing up from the age of 15, it was ingrained into my brain. I heard it every day, multiple times a day…that's well and good. Knowledge of the Word is fine. But as you read and study the Word, listen with your heart. Seek His truth in every word with your heart.
Your word I have hidden in my heart that I might not sin against You.–119:11
That's also the first scripture I memorized.
Pray…without ceasing.
Pray without ceasing.–
1 Thessalonians 5:17
See? Twice. When we pray we ask God for His hand. We speak to Him. We cry out to Him…and then we listen. We listen and allow Him to speak.
Allow the Spirit to move.
But the fruit of the Spirit is love, joy, peace, long-suffering, gentleness, goodness, faith, Meekness, and temperance; against such there is no law. And they that are Christ's have crucified the flesh with the affections and lusts. If we live in the Spirit, let us also walk in the Spirit. Let us not be desirous of vain glory, provoking one another, envying one another.
–Galatians 5:22-25
"When the Spirit of God comes into your life, It will uplift you and give understanding into the problems and joys of your daily life. It gives direction, and for many this is the first time they have found it."
Harold Klemp, Touching the Face of God, p. 7
Talk to God. Read. Study. Breathe….and always, always put on the full armor of God.
Put on the whole armor of God that you may be able to stand against the wiles of the devil.
Therefore put on the full armor of God, so that when the day of evil comes, you may be able to stand your ground, and after you have done everything, to stand. Stand firm then, with the belt of truth buckled around your waist, with the breastplate of righteousness in place, and with your feet fitted with the readiness that comes from the gospel of peace. In addition to all this, take up the shield of faith, with which you can extinguish all the flaming arrows of the evil one. Take the helmet of salvation and the sword of the Spirit, which is the word of God–Ephesians 6:13-17
Getting back to basics.
Oh, one more thing!
Be BLESSED!
If you would like to contact Tymothy Longoria or read other writings please visits the following links: